Former FBI Negotiator and Author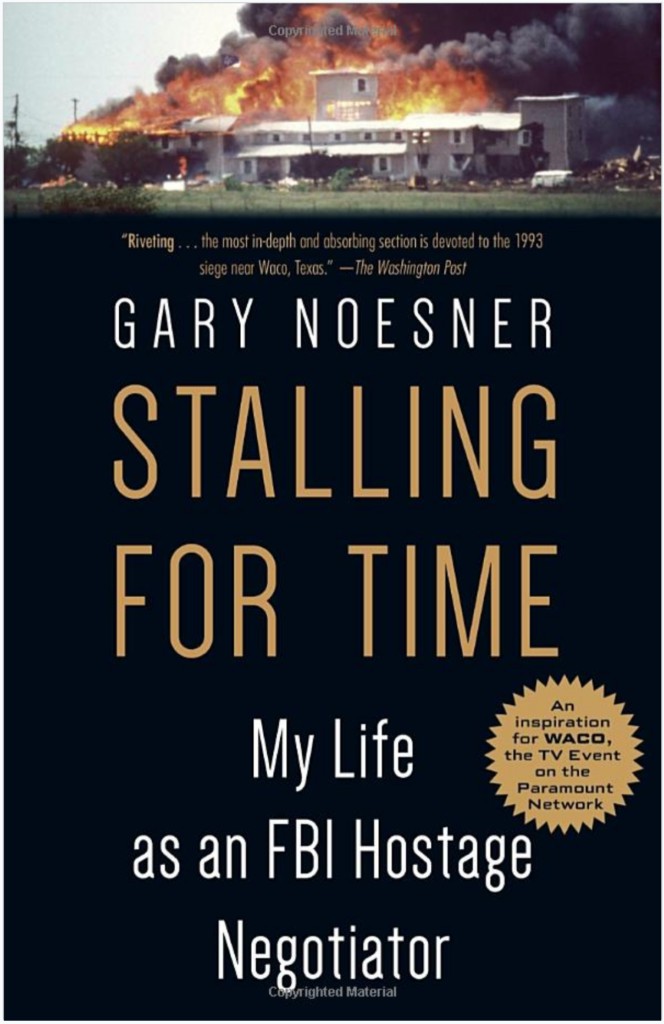 Gary Noesner retired from the FBI in 2003 following a 30 year career as an investigator, instructor, and negotiator.   A significant focus of his career was directed toward investigating Middle East hijackings in which American citizens were victimized.   In addition, he was an FBI hostage negotiator for 23 years of his career, retiring as the Chief of the FBI's Crisis Negotiation Unit, Critical Incident Response Group, the first person to hold that position. In that capacity he was heavily involved in numerous crisis incidents covering prison riots, right-wing militia standoffs, religious zealot sieges, terrorist embassy takeovers, airplane hijackings, and over 120 overseas kidnapping cases involving American citizens.
Following his retirement from the FBI he became a Senior Vice President with Control Risks, an international risk consultancy, assisting clients in managing overseas kidnap incidents.   He continues to Consult independently and speaks at law enforcement conferences and corporate gatherings around the world.
He has appeared in numerous television documentaries about hostage negotiation, terrorism, and kidnapping produced by the History Channel, NBC, MSNBC, Nat Geo, WE, Discovery, TLC, A&E, CNN, CBS, BBC, American Heroes Network, and others. He has been interviewed in Time, Forbes, the New Yorker, the Washington Post, the New York Times, Newsweek, Esquire, Men's Health, Philadelphia Inquirer, LA Times, People Magazine, Roll Call, the Washingtonian Magazine, the Christian Science Monitor, and other publications. He has given speeches at major universities, done interviews on numerous radio and television programs, and was the subject of an hour long interview on NPR's Fresh Air in 2010.
He has written a book about his FBI negotiation career which was published by Penguin Random House in 2010, entitled:   Stalling for Time:  My Life as an FBI Hostage Negotiator.    The book is being used in part as the basis for a six part mini-series on Waco that will air on the Paramount Network on January 24, 2018.
Gary has three grown children and resides in Virginia with his wife, Carol.
Gary Noesner is also available to law enforcement, educational institutions, and others for Skype type presentations. Fees negotiable.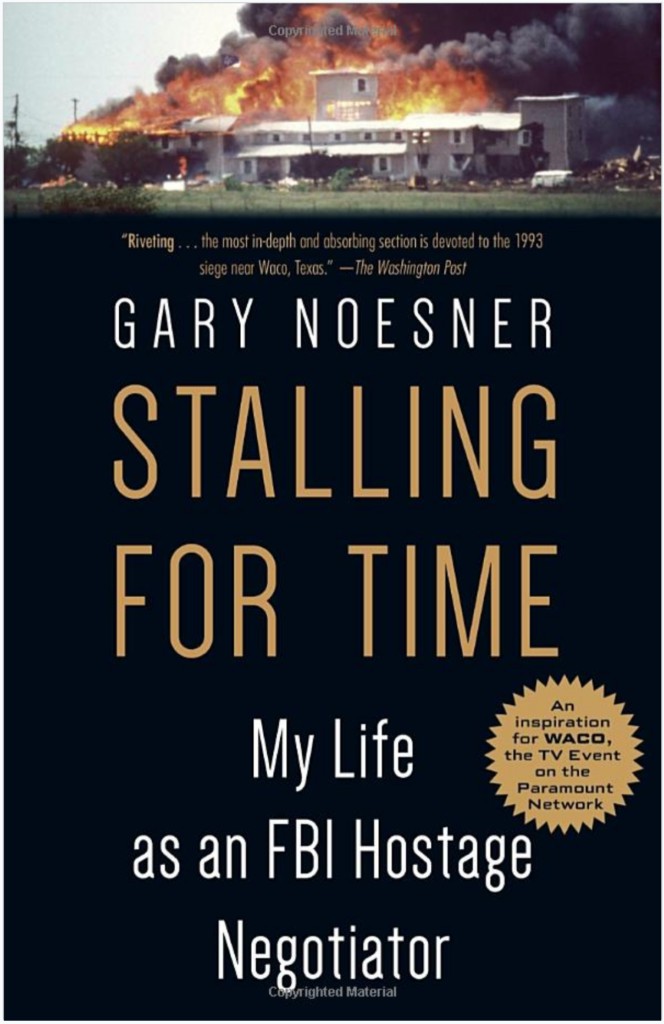 After almost 8 years in hardback, Penguin Random House has decided to release my book in both paperback and audiobook (which I was able to record).
Recent News
The six part Waco series has been available on Netflix since April, 2020 here.
The Paramount Network had announced the production of a mini-series on the 1993 Branch Davidian siege based in part on Gary Noesner's book "Stalling For Time, My Life as an FBI Hostage Negotiator." Actor Michael Shannon (Boardwalk Empire) will play Gary Noesner in the program.
Read More at The Hollywood Reporter
Book Reviews
"Tortured people, desperate moments, dangerous solutions. Stalling For Time takes us deep into the lethal world of hostages, sieges, and terrorsism. Gary Noesner, a thirty year veteran of the Bureau, has written a landmark work that's both a nail-biting thriller and an expose of timely importance. This is a must-read not only for true crime fans but for every cop and G-Man in the country."
—John Huddy, bestselling author of Storming Las Vegas
"Crisis Negotiations requires experience, a cool head, the ability to think on your feet in the face of extreme threat … and Gary personified each and every element. It was an honor to work with him and to learn my skills from the very best." —Byron A. Sage, Retired FBI Crisis Negotiator
"Gary Noesner is a gripping storyteller, and man, does the guy have stories. It's like watching an emotional bomb squad defuse explosive personalities. The big surprise is how recently the FBI learned the basic tenets of what makes a man put the gun down, a discovery story as captivating as the hostage standoffs that illuminate it." —Dave Cullen, Author of Columbine
"Gary Noesner has done something remarkable with this book, turning the murky process of hostage negotiations into a set of predictable and clear routes to bargaining success."—Robert B. Cialdini, bestselling author of Influence: Science and Practice
"Stalling for Time reads with the page-turning intensity of a first-rate thriller, only everything here is, remarkably, true. In finally opening up about his craft — about his 30 years spent reasoning with unreasonable people in situations that were literally life and death — Gary Noesner has written an essential book about the fine art of communication. For anyone who wants to know how to stay cool under fire, this book is indispensable."—Douglas Stone, best-selling author of Difficult Conversations: How to Discuss What Matters Most
"An intense, immersive narrative, making [Noesner's] real-life experiences read like episodes of a good cop drama. By the end of the book, readers will be impressed by the number of crucial moments in which Noesner has played a significant role—from the Achille Lauro hijacking in 1985 to the Freeman militia standoff in Montana in 1996. Vicariously entertaining."—Kirkus Reviews
"The world doesn't need me to tell them that Gary Noesner has been there, and done that. There are hundreds of living victims across the globe that are living testament to Gary's abilities to successfully negotiate, or teach others effective crisis negotiation." —Lt. Tom Monahan, Las Vegas Metropolitan Police Dept., Director, Southern Nevada Counter-Terrorism Center
"Due to his effusive personality, ability to articulate his broad knowledge and experience, and renowned sense of humor, Gary Noesner is undoubtedly the foremost federal ambassador to American law enforcement in the field of critical incident management in general and crisis negotiations in particular. Experienced and knowledgeable crisis negotiators have learned that when Gary Noesner speaks we need to listen. It is in large part due to Gary and a very few others that crisis negotiations enjoys the noble position of respect and effectiveness both within and outside the U.S. that it does."—William "Bill" Kidd, Crisis Negotiator since 1974 San Francisco PD and Sonoma County Sheriff's Office
"Gary Noesner's passion for the art of hostage/crisis negotiations has influenced hundreds, probably thousands, of police negotiators in the world. His enthusiasm for this highly perfected skill is contagious."—Bruce A. Wind, Crisis Negotiator, Seattle Police Department